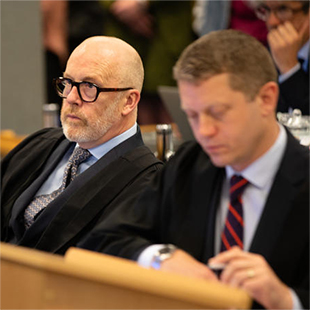 Millane trial: Defence accuse witness of lying
12/11/19
A woman who says she was suffocated by the man charged with murdering Grace Millane has been accused of lying.
The 27-year-old man denies murdering Ms Millane in his apartment after they met for a Tinder date last December.
He is on trial before Justice Moore and a jury of seven women and five men in the High Court at Auckland this month.
Three women who matched with the defendant on Tinder last year have now been called to give evidence for the Crown.
One told the jury the man suffocated her for several minutes while she gave him oral sex in his apartment in early November.
The woman, who has name suppression, cried as she described thinking she was going to die as she struggled underneath his body weight.
She was cross-examined by defence lawyer Ron Mansfield, who combed through messages the pair exchanged in the days following the incident.
The court heard they messaged back and forth more than 700 times between 2 November and 2 December.
A number of the messages were read aloud to the court, detailing various conversations from what they were both doing to their dating lives.
The woman had told the court she kept up friendly conversation with the man because she was scared he knew too much about her life.
Mr Mansfield put to her that she had ample opportunity to raise her concerns with him or cut off their communication but she didn't.
Mr Mansfield: "There's no mention of him doing anything to you physical that you didn't like or that caused you to be scared or not want to see him again."
Witness: "No. There's not in the text messages, no."
Mr Mansfield: "Why not just say that thing you did to me really scared me? If that's what in fact happened."
Witness: "I didn't want to bring it up again. I was ashamed; just the feeling I had after he said 'You don't think I did that on purpose do you?' It was like he pretended nothing had happened."
Mr Mansfield repeatedly put to the woman that she hadn't been suffocated and if she'd struggled to breathe during oral sex his client was "none the wiser".
In response, the woman repeatedly denied inventing her story or exaggerating details after realising the man was connected to Ms Millane's death.
"I didn't know about what had been going on. [The police] just asked me if I knew him and if I'd had any contact with him.
"I told them right from the beginning about my scary sexual experience with him before I knew about why he was being investigated."
The woman denied another allegation she had invented her story because she was embarassed to have pursued a man now charged with murder.
"Why would I make that up? Why would I want to go through this? Why would I want to be hassled and my life thrown out there?"
At the end of the day, she told the court she was actually in a relationship at the time and had no intention of ever seeing him again.
The woman broke down, putting her head in her arms on the table in front of her, when she heard Mr Mansfield's cross examination would spill over into tomorrow.
The trial is set down for four weeks and will hear from 36 Crown witnesses, including a pathologist who will tell the jury Ms Millane's cause of death was pressure to the neck.
Radio New Zealand