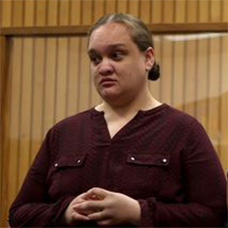 Mental illness of Moko's killer 'not given enough weight'
03/11/16
The jailing of a woman for 17 years for the manslaughter of three-year-old Moko Rangitoheriri failed to take into account her mental illness, the Court of Appeal has been told.
Tania Shailer and David Haerewa bashed and kicked Moko to death last year, and both were jailed with a non-parole period of nine years, but they are appealing against their sentences.
Moko's mother, Nicola Dally-Paki, had known Tania Shailer as a kohanga teacher, who had cared for her children and many others over the years, and the couple were paid more than $1000 to look after Moko and his sister.
Tania Shailer's lawyer, Ron Mansfield, said his client's mental health condition reduced her culpability for the boy's death, taking the matter out of the most serious category of such cases.
He said she had been a good mother who did her best to care for her children, but the arrival of Moko and his sister into her household left her unable to cope.
He said that was reflected in a report by a psychiatrist, David Chaplow, who found Shailer was in a dissociated state when she assaulted the child.
"[His opinion is that] at some stage in dealing with the child she has lost it, meaning she lost impulse control and perspective. 'I believe she utilised more force against Moko than she intended at that time. Stress triggered rage, rage triggered violence and she didn't take him to hospital for fear of losing her children.'"
Mr Mansfield said while Shailer admitted committing some "grave acts" she was extremely unwell and should be treated differently to someone who abused a child because they were cruel.
He said her final sentence should have been between 10-and-a-half and 12 years, but he did not quibble with the imposition of a minimum jail term.
Haerewa's lawyer, Harry Edward, said if the Court of Appeal believed Shailer's mental health was a significant factor in the case, then his client's sentence must also be affected, given he was a secondary party to the abuse of Moko.
He said the Crown had accepted at sentencing that his client had lesser culpability in the offending.
"One person clearly caused the child's death by injuries inflicted by her. [There was evidence from] witnesses who saw Ms Shailer assaulting the child and causing the injuries that led to the child's death."
However, Justice Kos questioned that, saying the file referred to Haerewa "aiding and abetting" the stomping of the child.
Mr Edward said it was accepted Haerewa allowed the culture of violence to develop but saying he allowed the stomping when he was not present was placing it a bit high.
Justice Kos did not accept that.
"That is to look at one incident. He committed grave acts [and] the fact he didn't commit the one thing that tipped it over the balance is neither here nor there."
For the Crown, Brendan Horsley said Dr Chaplow's report was based on erroneous and misleading material.
"Shailer said one stressor was she received no money but it was subsequently revealed she received money regularly from Moko's mother. That was a complete lie and Dr Chaplow fell for it.
"She denied any offending when first questioned and when asked about Moko's black eyes made up an elaborate story about him falling from a wood pile.
"She didn't mention that to Dr Chaplow, she didn't mention that it was a lie, or if she did it doesn't appear in his report."
Mr Horsley said Shailer tried to minimise her involvement but eventually said the offending had started within two weeks of baby Moko arriving in her home.
"She wanted to punish [him] for him hurting one of her children. She's not talking about some sort of dissociative state. She has a clear intention of causing harm from there."
The court reserved its decision.
Radio New Zealand