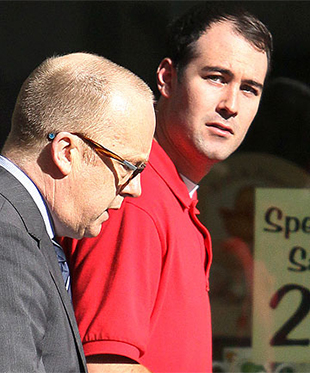 Keisha's man in court on assault charge
13/03/20
Keisha Castle-Hughes's on-again-off-again boyfriend Michael Graves has appeared in court today charged with assaulting the Whale Rider star.
He was remanded without plea for three weeks to give his defence a chance to see further police disclosure in the matter.
Graves was charged with assaulting Castle-Hughes on February 28 after the pair attended an Oscars party on February 27 at Auckland's Pullman Hotel.
The 22-year-old appeared in the Auckland District Court the next day and was bailed.
His bail conditions prevent him from contacting or trying to contact Castle-Hughes, 21.
That condition stopped a Tenancy Tribunal hearing Graves and Castle-Hughes were involved in from being heard on March 2.
Their former landlord Roger McCracken has accused the the pair of causing $4000 worth of damage to his Mt Eden house.
A Tenancy Tribunal spokesman said Graves' lawyer in the criminal matter, Ron Mansfield, had informed him the hearing could not proceed because of the order preventing his client from seeing Castle-Hughes.
However, they seem to have reconciled their differences and reunited, despite the court orders.
Castle-Hughes and Graves were spied at Rialto Cinemas in Newmarket on Sunday.
A theatre-goer said he instantly recognised the couple and pointed them out to his girlfriend, but thought nothing of it until he realised the pair were forbidden from seeing each other.
''They looked like they kind of didn't want to be noticed, or seen together. They walked behind the crowds waiting for tickets, Keisha was in front and Michael was a few feet behind her with a cap on.''
Mansfield yesterday confirmed that Graves still faced the assault charge and that his bail conditions hadn't changed.
He said he couldn't comment on the claim the pair had been seen together.
"That's the first I know of it and I don't know how reliable the information is."
Graves was remanded to April 3.
Auckland Now