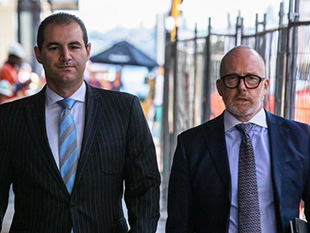 Jami-Lee Ross accuses National Party of 'manipulation and lies' amid donations saga
25/02/20
High-profile Botany MP Jami-Lee Ross has pleaded "not guilty" to charges of electoral fraud in the Auckland District Court.
But he didn't leave it at that. Afterwards, he delivered another searing statement against his former party, accusing National of "manipulation and lies".
It is a rare and extraordinary sight having a sitting MP standing in a courtroom dock - Ross accused of electoral fraud, pleading not guilty and promising to prove it.
"There is no own goal here. I have to trust the justice system in this country to establish that," Ross, an independent MP, told reporters outside Auckland District Court on Tuesday.
But it certainly looks like an own goal because it was Ross who laid the complaint with police in the first place, alleging that National leader Simon Bridges had committed the crime - which Bridges has always denied.
Newshub asked Ross why he's so confident Bridges is guilty if his former boss is not facing any charges.
"You'll have to ask the SFO [Serious Fraud Office] that," Ross' lawyer Ron Mansfield replied.
In a statement on Tuesday, a National spokesperson accused Ross of a "vendetta".
"The National Party has always maintained we had nothing to do with alleged illegal activity regarding the donations recently investigated by the Serious Fraud Office," they wrote.
"The Party does not accept the way Jami-Lee Ross is characterising his part in the donations which have led to charges being made against him, not the Party.
"The Party expects the trial of charges against Mr Ross will involve evidence which will inform the public of the true facts."
The SFO laid charges in January against four men over two $100,000 donations to National, so Ross wasn't lonely in the dock for long.
He was joined by twins Joe Zheng and Colin Zheng and their business partner Zhang Yikun, the wealthy businessman who Ross claimed offered National $100,000 which was then broken up into eight smaller sums so it didn't have to be declared.
Newshub visited the eight donors last month and most were unavailable or wouldn't speak.
And after pleading not-guilty on Tuesday, the three defendants had nothing to say either, slipping out the back door and avoiding the media.
Ross on the other hand came straight out to the front of the court to deliver a pointed dig - and yet more allegations - against foreign donors.
"I will continue to blow the whistle on foreign donations and agents of foreign states attempting to influence our democracy," Ross said.
He then delivered a guided missile at National.
"The National Party trolls have already started to mobilise and have mounted a campaign to take me down and to turn people against me."
Ross added: "People in the end will see through their manipulation and their lies."
Nearly a year and a half after his infamous and incredible split from National, the nerve is still clearly raw for Ross.
"There are many questions I'm not able to answer at the moment, we're in the middle of a criminal justice situation," Ross said.
But that's not derailing Ross's plans for the election. Newshub asked the MP if he will stand in Botany at the September election, and he said "nothing's changed".
Asked if he thinks he can defeat National's candidate Christopher Luxon - the former chief executive of Air New Zealand - Ross again said "nothing's changed"
Newshub