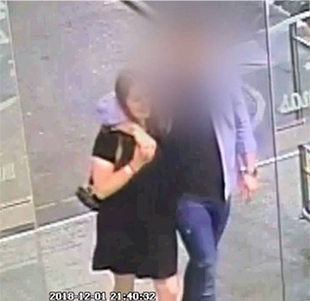 Grace Millane murder trial: Accused didn't intend to kill backpacker, defence says
19/11/19
The man accused of murdering British backpacker Grace Millane had no intention to kill her, his defence lawyer claims.
The Crown claims Grace, 21, was strangled to death by the man she met on Tinder in December 2018. The defence says her death was an accident during consensual sex.
The accused, 27, who has name suppression, denies murder at his high court trial in Auckland and will not be taking the witness stand to give evidence in his own defence.
Last week, in the accused's second police interview, the jury saw him telling officers a very different version of the night he spent with Grace to his earlier account. He eventually admitted disposing of her body.
On Tuesday, defence lawyer Ron Mansfield made his opening address to the jury.
He said "blame and shame" played a part in the trial and jurors should be careful their own religious, political, social or moral views did not distract them from the focus of whether a crime had been committed.
"When it comes to sexuality or sex don't we all now accept there is no normal?" Mansfield said.
He said in the confines of consent, people should be free to be who they are and to be intimate with each other, no matter if others condoned what they did or not.
Mansfield said the court had heard from three women the accused met on dating app Tinder, as well as information about his sexual practices and theirs.
He accepted his client had lied both to women he'd met and later to police.
"What we have seen is a young man who was 26 at the time, now 27, single, playing out his life through Tinder. Often as you will accept, misrepresenting his position or occupation in life, which is something he continued to do when he met the women concerned," Mansfield said.
"Importantly, what you see, is what [the accused] might be interested in doing in the bedroom or behind closed doors."
Mansfield said the accused was "so insecure" he needed to misrepresent himself in order to have a relationship.
The lawyer said the accused's conduct after he knew Grace had died didn't stand him in "good stead" with anyone but he did it because he panicked.
"What did he do - well we know. He panicked, undoubtedly - out of a fear of the consequence who was going to believe him that death occurred during a consensual sex activity."
Part way through his "clean-up" of evidence from the apartment where Grace died, the accused tested his story on a Tinder date the next day, telling her of a friend had been sentenced to manslaughter after a "sex-act went wrong".
Despite being rare, strangulation during sex, is a possible mechanism that can result in death in a consensual sexual relationship, Mansfield said.
Evidence about Grace's sexual preferences will be heard by the jury, he said, including claims that she told the accused she liked pressure to the neck and it was a practice she conducted with a previous boyfriend.
But he said this was not to put "blame and shame" on Grace.
"I want to be very clear. No-one is trying to shame Ms Millane or her family and no-one is trying to blame Ms Millane or her family and I'm certainly not suggesting that she's not normal," Mansfield said.
He said Grace's reputation should be exactly the same at the conclusion of the trial as it was at the start, how she was a loving, bright, engaging and well-liked woman.
"What she might like to do in the bedroom should have no impact on her reputation at all ... and, if anyone suggests that it does, it says more about them than it does about Ms Millane," Mansfield said.
Finishing his address, Mansfield maintained the accused's claim that Grace's death was not intentional.
"If this couple engaged in consensual sexual activity which included pressure to her neck ... and that went wrong and no-one intended for it to go wrong. That's not murder and that's what [the accused] has said took place."
Justice Simon Moore addressed the jury on the definition of murder, which he said he would set out further in his closing address.
He said they could reach a conclusion of murder if they were satisfied there was intent to cause death, or if the person causing injury was reckless in their actions.
GRACE'S FRIENDS
A former partner of Grace's, whose identity is suppressed, had his statement read to the court on Tuesday.
After Grace died, he was asked by police if she had an interest in BDSM. He told officers the pair had explored and researched safe practice of asphyxiation during sex.
The pair explored this after Grace said she had a friend who liked choking during sex.
He said the pair trusted each other and would use a safe word or Grace would tap three times if she wanted him to stop.
They also experimented with rough sex, blindfolding and role play.
In another statement read to the court, Grace's friend said they would talk about their sexual preferences as part of "girl talk" and Grace enjoyed her partner putting her hands around her neck, BDSM and rough sex at times.
The court also heard Grace had accounts on Whiplr and FetLife - online websites and apps for those interested in BDSM.
Her Whiplr account was last accessed on December 1 at Base Backpackers hostel on Queen St where she was staying in Auckland.
ALCOHOL 'WAS A FACTOR'
The court also heard from forensic pathologist and toxicology expert, Dr David Fintan Garavan, who said pathology evidence suggested Grace was involved in a consensual sexual act before she died as she had no defensive injuries.
But he said, in his opinion, her alcohol consumption could have "very well been a secondary factor in the cause of death".
He said the level of alcohol consumed could have disabled the safety valve in the heart from kicking in, which would usually tell the brain to take a deep breath when oxygen flow is restricted.
Garavan concluded the primary cause of Grace's death was mechanical asphyxia, with alcohol as a contributing cause.
The trial continues.
Stuff