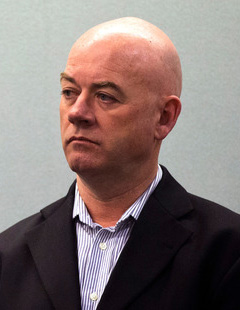 Engineer accused of bribery says entertainment is 'industry standard'
07/11/16
An engineer accused of bribery has said his entertainment of public officials extended well beyond the Auckland Transport and Rodney District Council staff he is charged with corrupting.
Stephen Borlase, of road engineering firm Projenz, told the High Court at Auckland today gifts outlined by the Crown - including four-figure lunches, and tens of thousands of dollars in international travel and accommodation - were just "industry standard business expenses".
"Our private clients were entertained in the same manner. Possibly not to the same extent, but they weren't the same scale of business for us," he said.
Borlase, along with former Rodney District Council and Auckland Transport senior manager Murray Noone are on trial facing charges of corrupting a public official through bribery. The pair have pleaded not guilty to all charges.
Borlase, under questioning by his lawyer Ron Mansfield, said the gifts to RDC and Auckland Transport staff were not out of the ordinary and were also extended to other public officials and commercial partners.
"There would have been the Stevenson Group, Todd Group: Both clients we've entertained at the rugby and The Grove. Auckland Council would be entertained often," he said.
Questioned further, Borlase said he had entertained finance staff and external legal representatives of Auckland Council, as well as representatives from Downer and Fulton Hogan.
Borlase was asked questions about the case constructed by Serious Fraud Office prosecutor Brian Dickey that sham consultancy fees were paid to Noone - totalling more than $1 million over the period 2007-2013 - with no evidence of any work having been done in return.
Borlase said he didn't pay too much attention to the details of invoices submitted by Noone and instead paid attention only to "the bottom line, the dollar amount".
Asked to explain what value Noone brought to Projenz as a consultant, Borlase said: "He was rubbing shoulders with clients and providing us with opportunities. Yeah, good value."
Mansfield said: "You've told us he [Noone] would report orally, not in writing, so there are no reports?"
To which Borlase replied: "Yes."
Borlase was asked by Mansfield why these alleged bribes and entertainment expenses were then coded in Projenz accounts to public roading contacts.
Borlase said he unaware of the "matching principle" in accounting, which the prosecution claims shows the expenses were tagged as relating to specific contacts. "Never heard about it before in my life," he said.
Asked whether Projenz had a complex accounting system, Borlase said: "It seemed complex to me but I don't think that it was."
Borlase said he thought Noone had cleared his consultancy with his employers at RDC and Auckland Transport, and denied it was a secret arrangement.
"It wasn't a secret, but we didn't feel the need to broadcast it," Borlase said.

Directly asked whether Projenz' consulting relationship with Noone was a sham, Borlase said: "I couldn't think of anything further from the truth."
Mansfield repeatedly raised the fact evidence the prosecution was relying on to show criminality was found in Projenz's own accounts. He suggested ways in which such offending could have taken place without being discovered.
"Would it be possible for you to use drawings to make [untraceable] cash payments?" Mansfield asked.
"I suppose it could, but we would never entertain this, didn't entertain that," Borlase said.
The trail, before Justice Sally Fitzgerald alone, continues into its sixth week.
NZ Herald