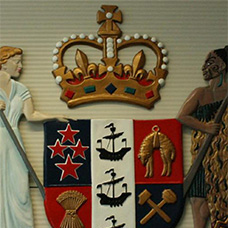 Burning body killers appeal convictions
12/05/16
Lawyers for two men convicted of murdering a man by dousing him with petrol and setting him on fire say it was never proved they intended to kill him.
Shivneel Kumar, 21, and Bryne Permal, 22, were found guilty last March of killing Auckland man Shalvin Prasad in 2013 and sentenced to life imprisonment with no parole for at least 17 years.
The Crown argued the pair wanted money at any cost, and killed Mr Prasad so they could steal the $30,000 he'd saved from years of working at Pak'nSave to go on a spending spree.
Today, lawyers for the pair asked the Court of Appeal to overturn their convictions and sentences.
Kumar's lawyer, Ron Mansfield, says while a text message showed Mr Prasad had gone to meet the men and CCTV footage captured them buying the 15 litres of petrol they use to later burn him, there was no evidence about what happened between those two events.
He says the pair had burned the body to hide the evidence of what had knocked Mr Prasad unconscious - thinking he was dead - but there was a lack of evidence during trial to suggest they had done anything with an intention to kill him beforehand.
"Even if there is an inference there was an unlawful act, there is a leap from an unlawful act to an unlawful act with murderous intent," he says.
Nothing in the communication between the two convicted men in the lead-up to Mr Prasad's death showed they ever intended to use force and they only planned to "hoodwink" him, making the 17-year minimum sentence too harsh, he says.
Permal's lawyer, Paul Borich, says his client had withdrawn from the burning but Justice Geoffrey Venning had not given a jury enough direction about the defence.
"He's taken some of things that were in favour of the defence and has essentially relegated them," he says.
Mr Prasad left his house to meet Kumar and Permal on the night of January 30, 2013, saying he'd be back by 10pm.
The Crown said Mr Prasad was fooled into withdrawing $30,000 from his account and just after 6am the next day, a woman walking her dog found Mr Prasad's body still smoking on the side of a rural road in Kingseat.
NZN